Tasty apple flavor. Contains an Equine source of live, viable, naturally occurring microorganisms and antibodies (specialized egg proteins). The ultimate in Gastro-intestinal Support!
Attack those pathogens with 20 BILLION CFU's of Equine Sourced Lactobacillus reuteri and Saccharomyces boulardii in each dose and 10 groups of Specialized Egg Proteins (IgY). Give your foal the best start at life!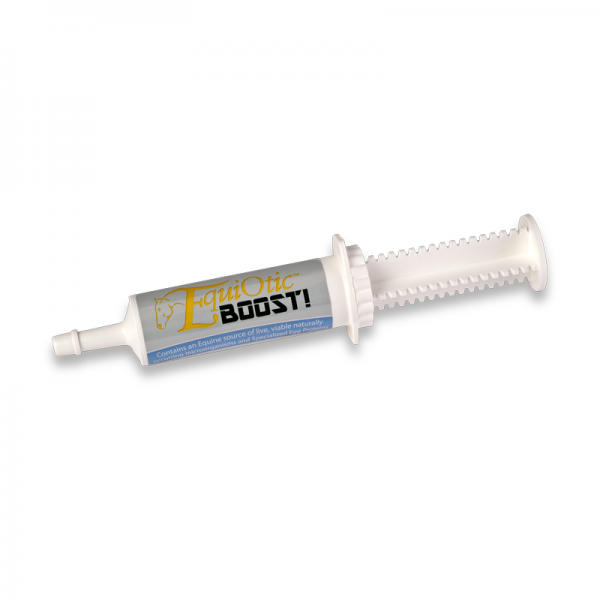 Species specific means that your horses GI tract will recognize this as good bacteria and not a foreign pathogen
Guaranteed number of CFU's. Highest in the market! Billions! Not just millions. Large numbers live Lactobacillus reuteri (20 billion CFU per dose) and Sacchaomayces boulardii (20 billion CFU per dose)
The specialized egg proteins in the whole egg powder are antibodies that have been specifically produced against gastrointestinal pathogens of the foal.  This provides an additional defense by binding inactivity these disease causing bacteria.
Guaranteed Analysis
Each 20cc contains 20 billion CFU of Saccharomyces cervisiae and 20 billion CFU of equine lactobacillus reuteri
Ingredients
soybean oil, silicon dioxide, active dry yeast (Saccharomyces cerevisiae), whole egg powder, dextrose, natural apple flavor, dried equine Lactobacillus reuteri fermentation product
Storage
Store in a cool, dry place
Feeding directions
Foal: 10cc orally twice a day for 7-10 days, then EquiOtic Foal & Mare or Equiotic packets until weaned

Horse: 60cc orally twice a day for 7-10 days, then 30cc orally twice a day until satisfied with results, then Equiotic packets

Pre-Surgery: 30cc orally for a few days prior to surgery