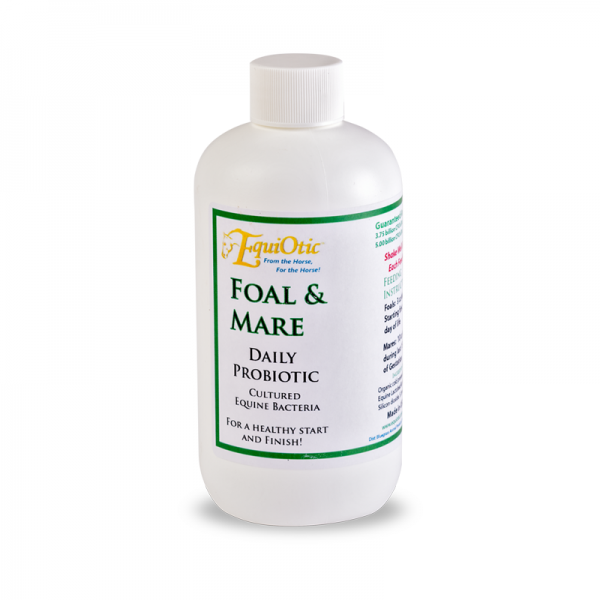 Species specific means that your horses GI tract will recognize this as good bacteria and not try to remove it
Guaranteed number of CFU's. Highest in the market! Billions! Not just millions. Large numbers live Lactobacillus reuteri (3.75 billion CFU/3cc) and Sacchaomayces boulardii (5.00 billion CFU/3cc)
Superb ability to stabilize the hindgut during times of upset, stress, travel, etc.
Guaranteed Analysis
Lactobacillus reuteri (3.75 billion CFU/3cc) and Sacchaomayces boulardii (5.00 billion CFU/3cc)
Ingredients
organic expeller pressed soybean oil, silicon dioxide, active dried yeast (dried saccharomyces boulardii fermentation product), dried lactobacillus reuteri fermentation product
Storage
Store in a cool, dry place
Feeding directions
SHAKE WELL BEFORE EACH FEEDING
Foals: 3cc/daily starting on the first day of life Mares: 10cc/daily during the last 15 days of gestation Can be added as a top dress on feed or syringed into the horses/foals mouth
The immune system starts in the gut and the foal first receives its initial flora from the mare.  Giving to mares during the last 15 days of gestation and to foals starting at birth helps the foal to develop a strong immune system from the start.  Starting the foal with an initial flora from the mare is critical to neonatal health.  Three major sources for flora are the birth canal, sucking the mammary gland (beneficial bacteria inhabit the teat canal of the mare) and the environment.
Pediatric diseases can be greatly influenced by the GI flora.  Therefore to insure adequate presence of Equine L. Reuteri by pre-foaling addition of this bacteria to the mare pre foaling and supporting the GI tract of the foal through perinatal period.
The majority of diseases in the horse occur during this perinatal period.  Continue to support your foal through this critical time with Equiotic Foal & Mare.