Your cat's gastrointestinal tract is important to their well-being
FeliOtic is the only probiotic available to cat owners that solely uses a strain of feline cultured bacteria, Lactobacillus reuteri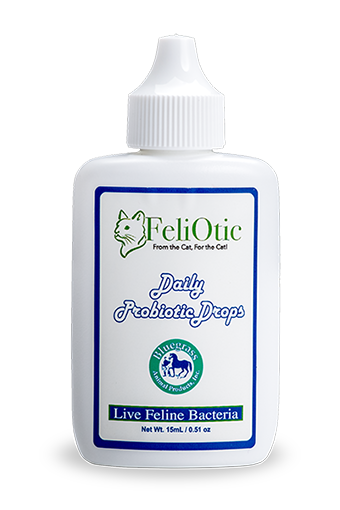 FeliOtic is the only probiotic available to cat owners that solely uses a strain of feline cultured bacteria, Lactobacillus reuteri.
The live Lactoabacillus reuteri in FeliOtic aids in the development of immunity, prevention of disease, development of the brain, regulation of blood glucose, regulation of the inflammatory responses to cancer and the aging process.
Many people think of probiotics to regulate the digestive system and help with stomach upset.  While probiotics are good during times of stomach upset they are best used daily to support the overall health of your cat.
Guaranteed Analysis
0.5 billion CFU feline Lactobacillus reuteri per 5 drops
Ingredients
organic cold pressed salmon oil, silicon dioxide, dried feline Lactobacillus reuteri
Storage
Store in a cool, dry place
Feeding directions
SHAKE WELL BEFORE EACH FEEDING

cat weight                           # daily drops

0-10 lbs                                3

10 plus lbs                           5

We recommend that you add the feliotic drops as a topper to your cats food.  The drops are very small and salmon flavored so your cat should enjoy them.  You can also place the drops on your cats paw and they should lick it off on their own.